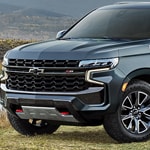 The Chevrolet Suburban is a dependable and modern SUV that has a lot of value to offer Junction City, KS motorists. This is especially true when it comes to the Chevrolet Suburban's stellar interior features. What interior Chevrolet Suburban features do we at Jim Clark Chevrolet think will appeal to local SUV shoppers?
While behind the wheel of a Chevrolet Suburban, you will be able to take up to eight passengers with you. This is great news for drivers with large families. Besides the seating, cargo space is another area in which the Chevrolet Suburban excels. In addition to its stellar legroom and headroom, the Chevrolet Suburban also provides ample cargo volume for transporting your belongings.
The cabin of the Chevrolet Suburban is also equipped with some convenient technology features. One tech feature that makes the Chevrolet Suburban's cabin more enjoyable to ride in is superb connectivity. Passengers can even connect to Wi-Fi inside the Chevrolet Suburban.