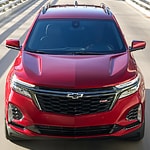 When you think of a car's exterior, you probably think of how it looks. And a car's appearance is essential after all, that's one of the main reasons people buy particular models.
The all-new Chevrolet Equinox has been completely redesigned for the 2022 model year. One of the most noticeable changes is the new, sleeker exterior. The front-end exterior has been redesigned, giving the SUV a more modern look. The grille has been made more extensive and prominent, and the headlight housings have a down slimming. The result is a sportier and more aggressive appearance.
The new taillight design is the most noticeable change at the exterior rear end. The old boxy lights have been replaced with slim, LED units that wrap around the corners of the vehicle. The result is a more sophisticated look that echoes the high-end design of other Chevrolet models. In addition, the rear bumper boasts a new shaping, and the exhaust tips have been moved to a more horizontal position.